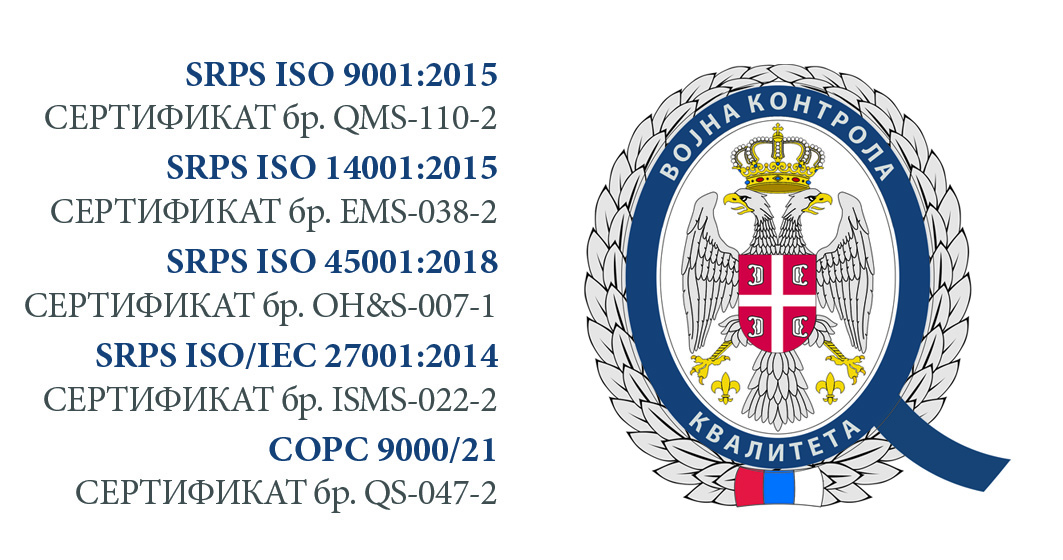 IRITEL a.d. BEOGRAD has implemented and maintains a Management System which fulfills the requirements of the following standards:
SRPS ISO 9001:2015,
SRPS ISO 14001:2015,
SRPS ISO 45001:2018,
SRPS ISO/IEC 27001:2014 and
СОРС 9000/21.
Field of activities development, production, project design and engineering of telecommunication and electronic devices and systems. Certified by MOD Military Quality Control.
Dokuments (pdf):
Certificate SRPS ISO 9001:2015 (eng)
Certificate SRPS ISO 14001:2015 (eng)
Certificate SRPS ISO 45001:2018 (eng)
Certificate SRPS ISO/IEC 27001:2014 (eng)
Certificate SRPS ISO 9001:2015 (cyr)
Certificate SRPS ISO 14001:2015 (cyr)
Certificate SRPS ISO 45001:2018 (cyr)
Certificate SRPS ISO/IEC 27001:2014 (cyr)